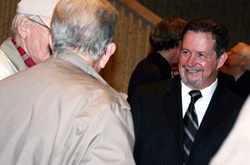 "
Learn from the BEST what they will share - Learn from the WORST, that you don't become them ! " ~ Jim Hodges
** Hire Jim to speak at your college, school, church, or any group, with a detailed e-mail inquiry to: bookinginfo@cowboyspeaks.com

Topics include:

Public Service
Business / Entrepreneur
Inventing: Process & New Products
Critical Thinking: The First Time you Ever Thought
Personal Defense: You & The Law, Tactical / Street Level Defense
Close Combat
Terrorism, The Real Story - Criminal Investigations & Research
Working With Psychics
Professional Security Training
Veteran's Issues, Combat PTSD, etc.
Vietnam War & Laos, The Untold Story
Texas History
Cowboy & Ranching History
Horse Training
Film, Television, Actor, Commercial print, etc.
Motivational & Self Help Topics: Despair, Depression, Fear, etc.
** Each topic will be customized for your group & include a complete Q & A Session as well.
© Copyright, 2014, Jim Hodges, and www.cowboyspeaks.com, all rights reserved.
---